How to purchase the correct size quilt cover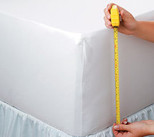 Unfortunately, purchasing the most appropriate quilt cover for your needs involves more than just choosing your favourite colour and the design that looks the best.
The first step to finding the perfect quilt cover is taking measurements of your bed and current duvet you wish to use in order to determine the appropriate quilt cover size for you.
A bed is typically (but not always) longer from the head to toe direction than it is wide from side to side. Individual mattress manufactures usually have their own exact sizings, but they usually don't deviate from the following guidelines too much:
King Single: 105x203cm
Double: 135x190cm
Queen: 153x203cm
King: 184x203cm
We encourage you to measure your mattress and compare its exact size to the above sizes. Simply get a tape measure and measure the top surface (the one you lay down on), going from both where your head would be if you were laying down, down to your toes, and across the mattress.
At Machester Direct, our quilt cover sets are designed and manufactured to the following dimensions. You will notice that the duvet covers are far larger than the actual mattresses. This is usually because duvets are bigger than the mattresses they sit on, allowing for its edges to overhang the bed, which creates a luxury look. The fact that duvet covers can also vary in sizing according to different brands means that while you have your tape measure out, it wouldn't be too bad of an idea to take measurements of it as well.
| | | |
| --- | --- | --- |
| Size | Length (cm) | Width (cm) |
| Single King Size | | |
| Double bed Size | 180 | 210 |
| Queen Size | 210 | 210 |
| King Size | 245 | 210 |
| Super King Size | 270 | 240 |
Now that you have your measurements, finding the perfect quilt cover only gets easier from now on- just browse Machester Direct! The amount your duvet and duvet cover overhang your mattress should determine which size quilt cover you want. For example, if you want a lot of overhang for a queen size bed, there is the possibility of purchasing a king size duvet cover (of course, assuming your duvet is also a king size standard).
---