30 Days Return Policy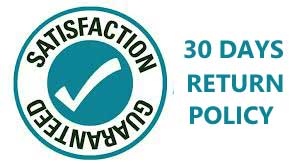 Warranty is appicable?
Yes. Many of our products are offered with a 30 Day Warranty counting from your order arrival date.
During the period, you can request for the Replacement or Return for Refund (RRTF) of problematic items, if products have production defects when received, including unremovable stains, losed and wrong stitching, seaming or quilting.
What are the general requirements for a warranty claim (RRTF)?
All claimed items
have no any apparent man-made damages,
are not used and not washed,
must be packed as orginal and in a resellable condition (it is important for you to keep the orginal package)
Who will cover return shipping cost?
All shipping and handling charges for the return are the responsibility of the buyer, unless there is wrong delivery of items to buyers. We don't cover return cost if you change your mind or doesn;t like patterns and colors of products.
How to make a claim for warranty?
Please contact us via email or online form to report an issue. You must provide your order / invoice and product information as proof of purchase. If needed, we may request for a photo to show the detail of the claimed issues.
After your warranty claim is reviewed and approved by us, we will determine whether claimed items need to be returned and instruct you how to return them.
Can I return my items first?
No. Replacement shipping or Return for Refund cannot be initiated until both parties have an agreement of a return solution.
What If I found the item I received is not as described?
At Manchester Direct, we provide as accurate and correct manchester product descriptions as we can in the item ad, and all errors and omissions are not intentional. If you have received an item in error, please notify us immediately by email or online contact form. Please take all care to ensure the item and its package is resellable.
Where do items need to be returned to?
After a communicaton and agreement between both parties for a return, a return address will be emailed to buyers.
How do customers return items?
Be default, buyers can use AusPost return service to return parcels. Or we can provide an alternative solution when applicable.
Do items need to be in orginal packaging for returns?
Yes. returned item must be packed same as original.
Speical Return Exceptions
Due to hygiene reasons, personal care products, pillows, quilts, sheet sets are unable to be returned for change of mind.
If there are stains / damage caused, the return is not applicable.
For Minijumbuk brand products, if it has product defect orginally, Minijumbuk own manufacturers warranty covers it as stated on its Minijumbuk product package.
---