Choosing bed linen in Summer
Date Posted:1 November 2019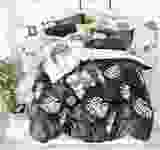 Choosing bed linen in Summer
For effortless and stylish summer bedroom fashion, consider our wide range of aqua, turquoise and peacock teal coloured quilt covers. These colours are bright and fresh, and come in a variety of designs for all tastes- from more complex pintuck patterns to simple contrasting aquas and whites.
For darker bedrooms, our teal, purple and charcoal coloured quilt covers also make a fine match. They are dark enough to keep your bedroom in-trend, but rich enough in colour to not lose character and convey a sense of luxury.
As for materials, cotton is the best choice for summer, as its breathability will keep you ventilated and cool during the hot summer nights. For affordability however, our microfiber blends are also appropriate options offering a solid compromse between budget and quality.
---