How to choose the right design style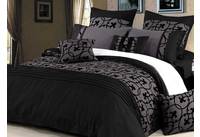 Here at Manchester Direct, we stock a large variety of bed linen products with a range of design cues. We have quilt cover sets that feature pintucking, we have quilts that feature flocking, and we also have quilts that feature printed designs.
How do you know what to choose?
In our previous guide, How to choose the best colour, we argued that colour was one of the largest factors in determining the look and feel of your bed and your bedroom.
However, the textural elements and design cues of the quilt cover can also have a significant role in the look of your bedroom.
Imagine if a quilt cover that was purely black in colour with nothing special was suddenly redesigned with the heavy use of sequins, which are tiny disk-shaped beads that have shiny, reflective properties: suddenly the black quilt cover becomes reflective, and starts making the room it once looked good in overstimulated, because that bedroom had a lot of lighting and made the bed look something like a disco ball.
While an extreme example, it highlights the role of design in duvet covers that makes or breaks an entire bedroom's looks. For example, consider our Rossier II Aqua, and our Rimini Aqua duvet covers: The Rossier II features a classic striped sections of white to break up the aqua, leaving it with a simple and contemporary style. Meanwhile, the Rimini Aqua extensive cross weaving and stitching means that it is definitely not a 'simple' design; it is more of a mature and sophisticated look than the Rossier II. And because of this, despite the fact both are aqua in colour, because their designs are so different, each will look very differently in the same room.
In most contexts, horizontal striped lines might help give the illusion of a wider, luxurious bed, whilst sequins might give a touch of class and elegance with their added reflection. Designs featuring embroidery may also give an extra touch of luxury by adding visual and tactile appeal depending on the embroidery, and some of our quilt covers which feature diamond pintucking are an example of how embroidery and stitching can be combined to make a duvet cover look aesthetically pleasing.
Of course, the designs available out there are numerous, and there are literally hundreds of combinations that can look good in a given context. This is why Manchester Direct believes in having a large range of items, because we know choice is everything, and we know that everyone's choice is different and unique to them. So have a browse through our website, we know our large range of products will impress you.
---