Buying quilt covers in autumn
Date Posted:5 April 2016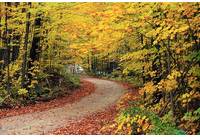 Daylight savings has just ended, signalling that winter is fast on its way. As we all slowly make the transition between wearing shorts and t-shirts to wearing trousers and long-sleeves, what better time than to refresh the look of your bedroom? Sound like too much hassle? Don't worry, because it's not as difficult as it sounds. Keep reading and by the end of this guide you'll realise how easy it is to completely alter the feel of your bedroom.
Given that the number of cold and rainy days will slowly overtake the hot and sunny days, consider a completely different colour duvet than your current one to refresh your bedroom's colour palette. Traditionally, earthly colours such as grey, brown and black are the top choices for increasing the coziness of your room, but in autumn when there are still bright and sunny days, the sunlight entering your room will make these solid dark colours look dull and boring.
The solution?
Darker colours that aren't black, grey or brown!
Consider the darker shades of colours such as teal or purple, or some of our darker coloured printed cotton quilt covers from Ricoco.
These darker colours blend the warmness of a darker palette, whilst having enough brightness and prescence to still convey a springy and punchy impact. The kind of combination that will serve you well as we make the transition towards winter.
However, if you do wish to get your winter quilt covers ready, start by looking at these charcoal and black quilt covers!
---