MiniJumbuk Sleep Restful Wool Mattress Topper
From
$279.00
Sold Out
Choose your item from Buying Options below
---
Buying Options
Image
Name
RRP | Our Price
Quantity
Single Size MiniJumbuk Sleep Restful Wool Mattress Topper

RRP $379.99

$279.00

Sold Out

Notify Me

King Single Size MiniJumbuk Sleep Restful Wool Mattress Topper

RRP $429.99

$299.00

Sold Out

Notify Me

Double Size MiniJumbuk Sleep Restful Wool Mattress Topper

RRP $499.99

$329.00

Sold Out

Notify Me

Queen Size MiniJumbuk Sleep Restful Wool Mattress Topper

RRP $579.99

$369.00

Sold Out

Notify Me

King Size MiniJumbuk Sleep Restful Wool Mattress Topper

RRP $629.99

$399.00

Sold Out

Notify Me
WOOL FLEECE + COTTON FILL MATTRESS TOPPER
A gentle combination of wool fleece and cotton fill combine to naturally relax the body for a more restful sleep.
If you're looking to enhance your sleep quality, the SLEEP RESTFUL mattress topper is made for you.
A unique combination of wool fleece and cotton fill provide total comfort to help you achieve a deeper, more restful sleep. Wool is proven to lower the heart rate and relax the body, so you wake feeling more invigorated and refreshed every morning. Experience the SLEEP RESTFUL difference tonight.
SLEEP BETTER NATURALLY
Wool has the ability to rejuvenate your body through more restful sleep. Our soft wool fleece provides natural warmth and disperses bodyweight over a wider area for maximum comfort. This allows your body to rest longer in the same position providing a higher quality sleep experience.
Wool's unique ability to regulate excess heat and moisture ensure you stay dry and relaxed in bed. This leads to a lower and more consistent heart rate while you sleep.
Cotton has natural cooling properties and when combined with wool, they provide a more regulated body temperature – ideal for people who sleep too hot or too cold. All this adds up to the best night's sleep possible.
BETTER NIGHTS
Body pressure tests shows 25% increase in comfort
The combination of wool fleece and cotton fill, create a springy cushioning inner filling that delivers up to 25% extra comfort compared to a standard mattress. This leads to a deeper and more satisfying sleep, so you'll wake more refreshed.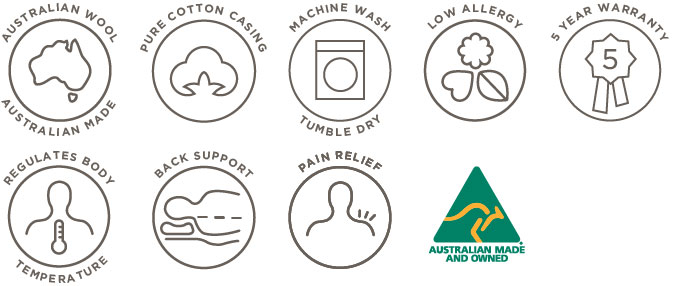 MATTRESS TOPPER MEASUREMENTS
Single 91 x 188cm
King Single 107 x 203cm
Double 137 x 188cm
Queen 153 x 203cm
King 183 x 203cm
CONSTRUCTION
Pile Surface – 400gsm Wool Fleece
Filling – 250gsm Pure Cotton Fill
Backing/Casing – Cotton
Fitted Skirt – 65% polyester/35% cotton
45cm fitted skirt
LOW ALLERGY
The wool fill in all MiniJumbuk products has been treated with Ultra-Fresh. This is an anti-bacterial treatment that provides lasting freshness and hygiene for effective limitation of dust mites.
| | |
| --- | --- |
| SKU | MT_RESTFUL |
| Model # | MT_RESTFUL |
| Brand | MiniJumbuk |
5 Years Product Warranty by MiniJumbuk
Yes. During the Warranty period, you lodge your claim to MiniJumbuk with the invoice you received.
From our base in Melbourne, we ship your order Australia Wide using Australia Post and other couriers best suitable for your place. You have an Parcel Tracking detail for every orders. Your order parcel is under our Insurance Cover.
We provides FREE shipping for orders over $100 (Quilt cover, Sheet Set & Curtain categories only, and except special promtional products) for Australia wide addresses, and incredibly competitive rates for those with smaller orders too.
The following are estimated ONLY to most capital cities for bedroom, bathroom, curtain catgories only.
The accurate shipping rate is given at your checkout process or via shipping postage calculator on your shopping cart page .
| | |
| --- | --- |
| Destination | Shipping Price Range ( reference only) |
| Melbourne | $5.0 - $8.55 |
| Sydney | $8.00 - $12.00 |
| Brisbane | $8.00 - $13.60 |
| Perth | $8.55 - $17.50 |
| Adelaide | $8.55 - $13.50 |
We can also ship your order (bedroom, bathroom, curtain catgories only) to New Zealand at the below rate ( estimated only) .
| | | |
| --- | --- | --- |
| Destination | Postage for 1st item | Additional Item |
| Melbourne | AUD $15 - $17 | AUD$10 |
Customer Reviews
Average Rating :

(0)
Be The First To Review This Product!
Help other manchester buyers shop smarter by giving a review for products you have purchased.